#Route66 #part2 In case you're new to this travel series: this is the next episode on how four Spaniards and a crazy girl crossed the United States of America following Route 66 from east to west. It was definitely one of the most amazing experiences here in the States, and you are more than welcome to hear all about it.
After spending our first night in Tulsa, OK, we continued our journey in direction Texas, passing through Oklahoma City. Beautiful sunshine keeping us company, the landscape changed drastically. Cornfields transformed into endless cotton fields, black cattle slowly chewed its grass next to the road, and actual tumbleweeds were racing with us in the wind. (Imagine my face when I saw a real tumbleweed rolling in Texas, just like in a Western movie!!) We even passed by a reserve which was home to wild buffalos!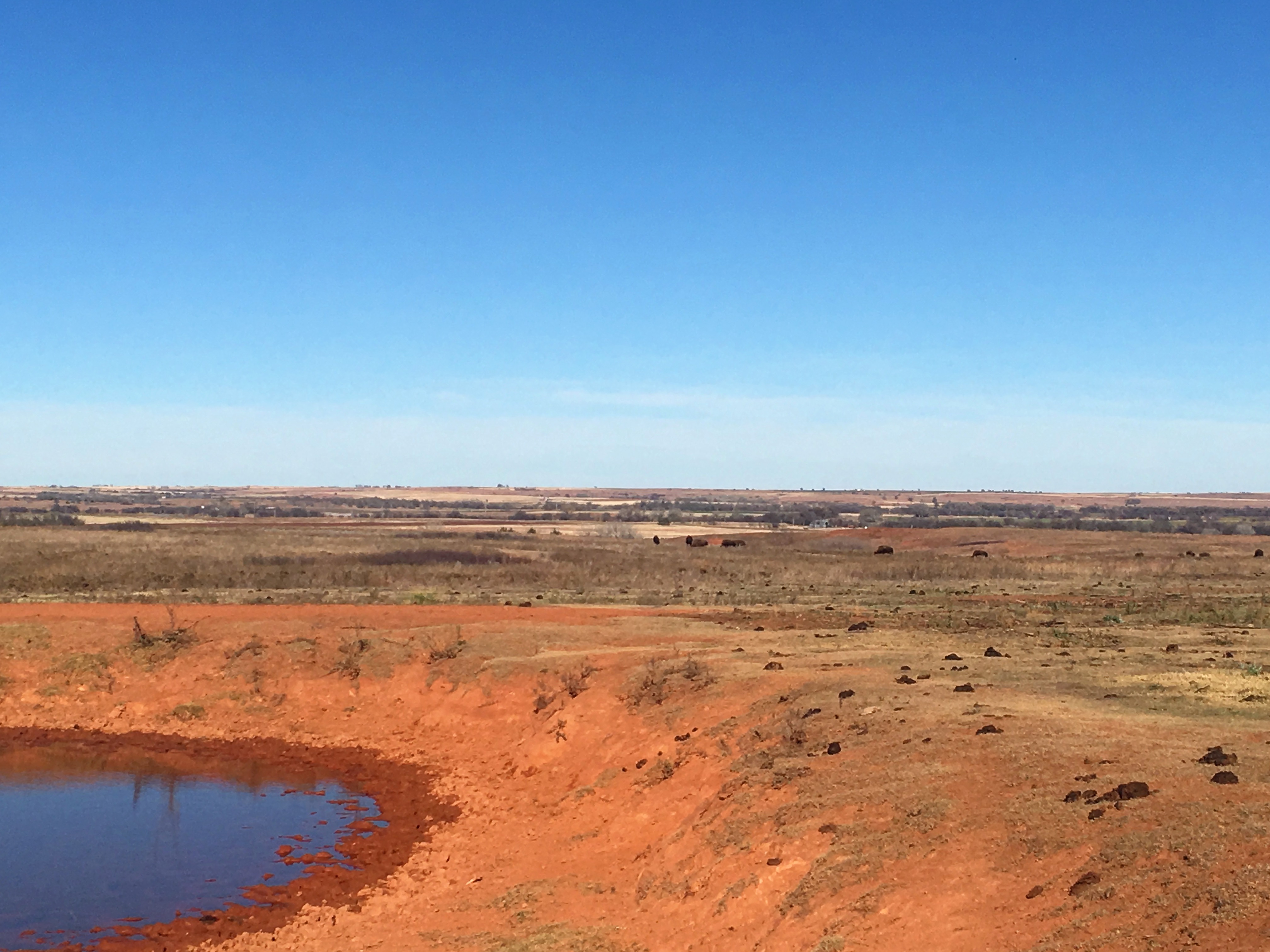 Finally, we arrived in Amarillo, TX, where we had dinner in The Big Texan, known especially for its steaks. The atmosphere in this steakhouse was amazing! But apart from the great décor, traditional live music and friendly people, there was still something else that made this place special. History has it that a table full of hungry cowboys competed for Big Texan bragging rights by eating 1-pound steaks over a 1 hour period of time. When the hour ended, one cowboy had eaten four and a half 1-pound steaks (72 oz.), shrimp cocktail, salad, baked potato, and bread. The owner of the steakhouse grinned and vowed that from that day forward, the diner would be free for anyone who could eat it in one hour! Are you curious who is holding the record at the moment? It's Molly Schuyler.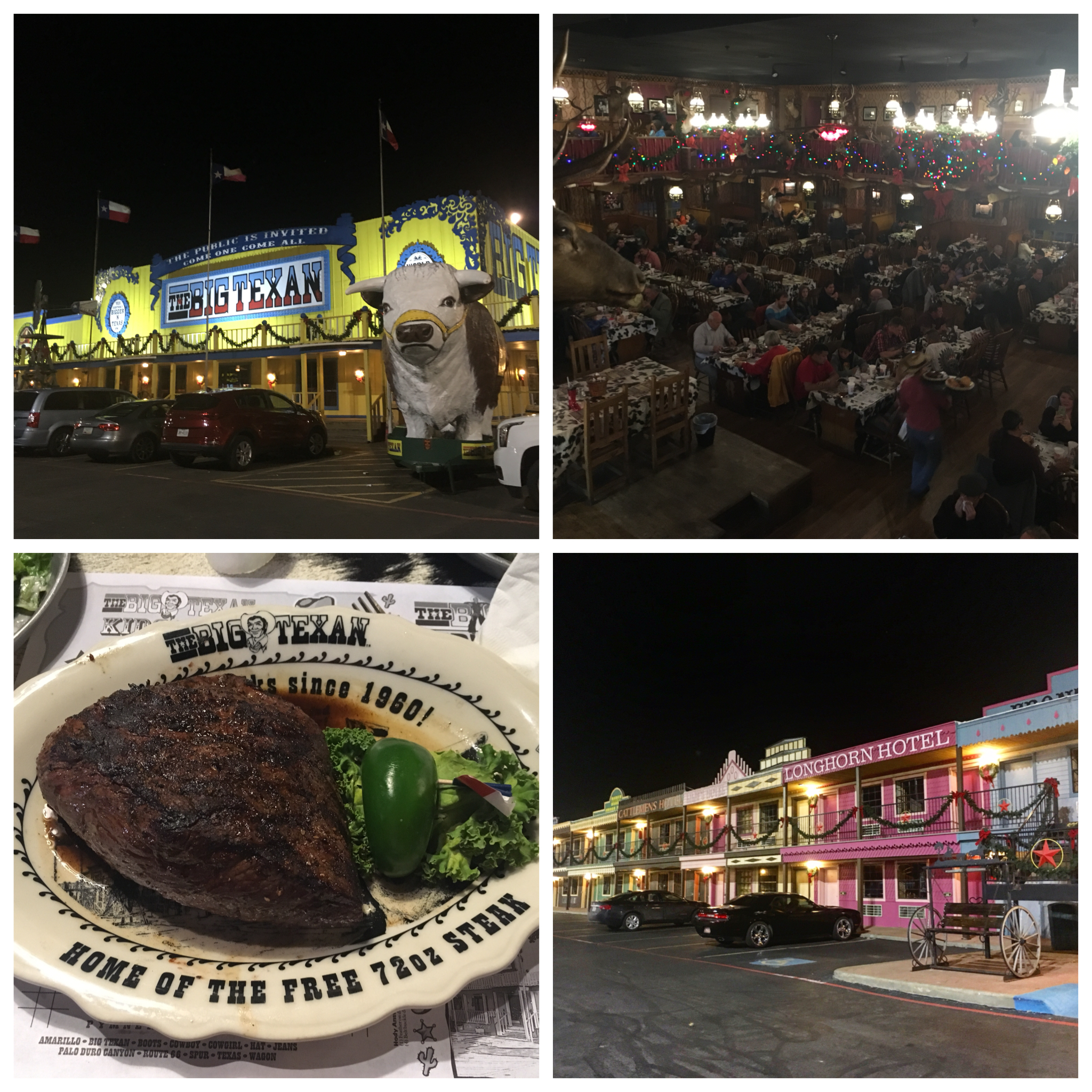 The next day brought us to one of my personal highlights: The Cadillac Ranch! Imagine a vast, empty field. Imagine ten Cadillacs half-buried, nose-down, in the earth. Imagine them sprayed over and over again by thousands of people. Perfection.
For those who would like to hear more about it: Standing along Route 66 near Amarillo, TX, Cadillac Ranch was invented and built in 1974 by a group of art-hippies from San Francisco, called The Ant Farm, and Amarillo billionaire Stanley Marsh 3. Creating a confusing and mysterious piece of public art, ten Caddies were driven into one of Stanley Marsh 3's fields, and then half-buried, upside down, in the dirt. They faced west in a line, from the 1949 Club Sedan to the 1963 Sedan de Ville, their tail fins held high for all to see.
Decades have passed, and the Cadillacs have faced years of public deconstruction. People ripped off car pieces as souvenirs and colourful graffiti spray decorates the remaining frames. And still (or maybe because of that?), I find it amazing. Imagine the joy in my eyes when a stranger who was about to leave the field offered me a pink spray bottle!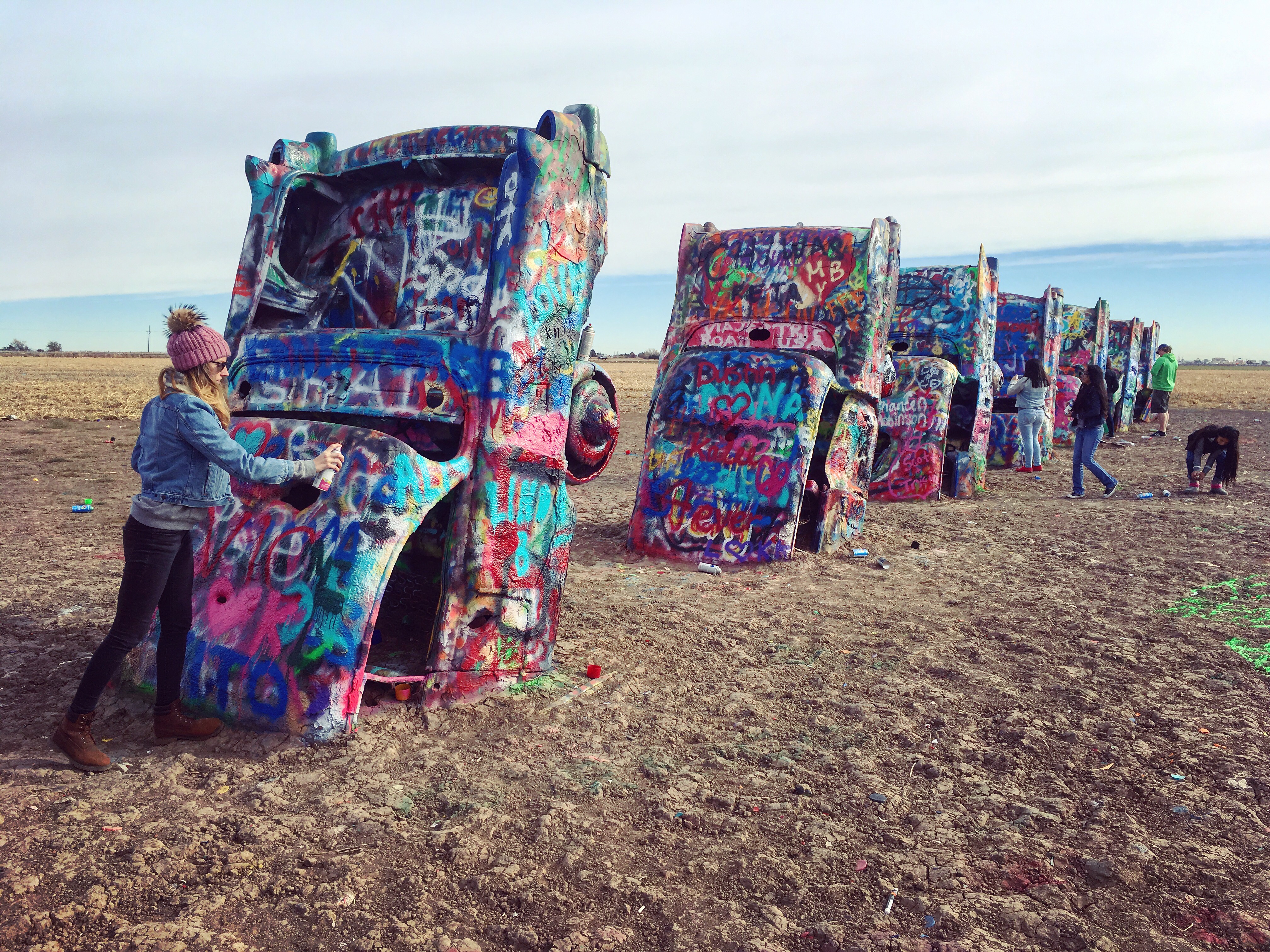 Leaving Texas behind, it was time to enter New Mexico, where we discovered another amazing place. At the foot of Tucumcari Mountain, NM, lies the town Tucumcari which enchanted all of us. We saw a souvenir stand in the shape of an American Indian teepee, a restaurant shaped like a Mexican sombrero, and a gas station that turned out to be a gathering of historic Route 66 artefacts. We couldn't believe that there are still places like that! Time seemed to stand still in this place, and so did we. Instead of a 10-minutes stop we decided to stay for several hours in this unique town, simply strolling around in the sunshine. However, at some point it was time to leave and head towards Albuquerque, where I paid attention that my boys would NOT throw a pizza at any house. #breakingbad
We were on the road now only for three days, but I already knew that this trip is going to be incredible. What about you? Are you still accompanying me? See you in Arizona, then! In the meantime: who solves the riddle? #sidebar Have fun! K. To be continued…