Hello my dear readers!
You know what I was wondering about during those past weeks? I wonder about who you are. Are you one of my friends who somehow still isn't sick of my bridal stories? Are you someone that reminisces on her time as bride (or maybe his time as groom?) while reading my words? Are you a soon-to-be bride yourself and look for inspiration? I honestly don't know. And that's ok.
Some time ago we met with some of our wedding guests and somehow we got onto the topic of our wedding. We started to tell each other stories and both sides were like 'Really? When did that happen?' and 'Oh wow, I didn't know.'
When you go to a wedding it's impossible to keep track of everything that happens. There's a crowd, there is so much happening, and then there is the part of the day when the newlyweds are not in sight for the rest of the party. That's why it's so interesting for us to talk to our family and friends and listen to their perspective. It's so much fun!
For our part, here are a few things that happened during our wedding that even our guests definitely don't know about. 🙂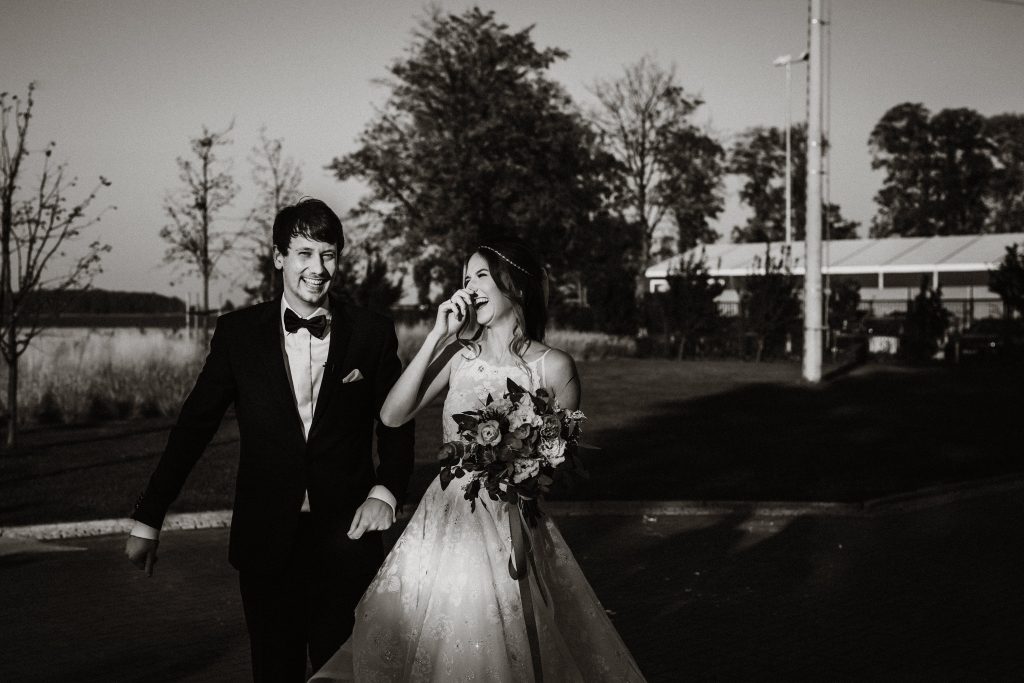 The letter
October 13th. Early in the morning the world was still calm, the air fresh and the sun was shining through the morning dawn. The only sound getting to my ears was the horses' neighing.
My first appointment of the day was the hairdresser, closely followed by make-up. Done with those two, there I was, alone in our wedding suite, waiting for my Mom to help me dress. I had a moment to myself. There was a handwritten letter for me on the little bedside table and I've been dying to open it. I knew that in another building of the hotel, in another room, on another table was another letter. A letter to be kept forever. Holding this piece of paper and reading his words was definitely one of my favorite moments.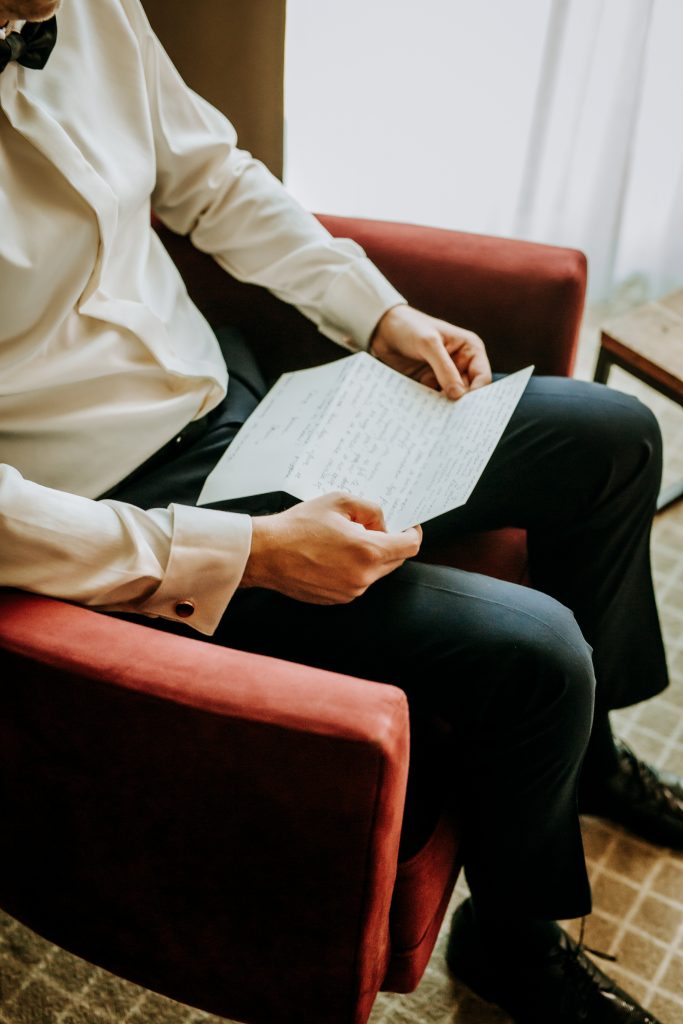 The first look
The moment came when I had hair and make-up done. I had my amazing dress on, I squeezed into glitter shoes and my hair was decorated with a long, soft veil. One final touch of perfume and lip-gloss on my lips. I didn't have to worry about the sparkle in my eyes – it was there all along.
Then, my father and my brother came to my room to pick me up. They led me down the corridor of the hotel and guided to the little park outside, where my soon-to-be husband waited for me. I was so happy to see him. Obviously, that young man was the first and only thought on my mind since I woke up. He turned around. The first look. A soft smile. And there he was, giving me a long, firm hug. This feeling right there was the whole reason for what was going to happen today. Not my dress or jewellery, not the speeches or the dance party. Not even our dear guests. This. This magic between us was the reason we would head to the church in a few moments.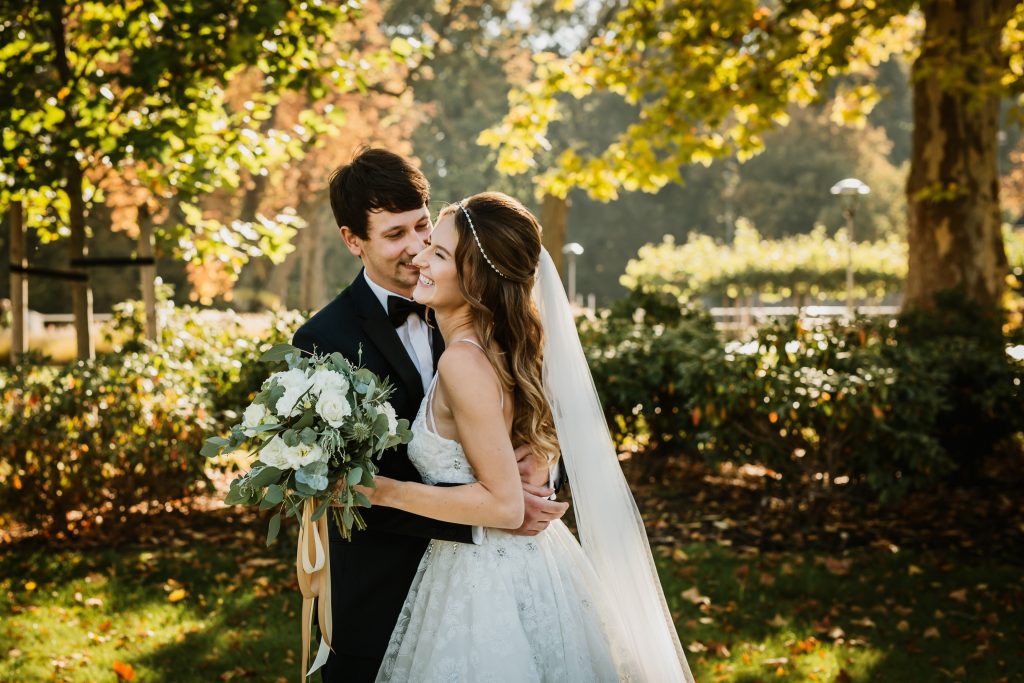 Our parents' blessing
Those of you who are Polish or from Polish origin know the tradition of the parents' blessing. It's usually done shortly before the wedding ceremony, often at the bride's place.
After being all ready in our dresses and after having shared our first moment together, my fiancé and I met with our parents. We thanked for everything they've done for us in those past years. For taking care, for working hard, for leaving their home country in order to assure a better future for their children, for the education they supported, for the trust they gave us, for the love that never came short. In a nutshell, for being the most awesome parents in the world.
Keeping this in mind, we asked for their approval of our union. With a smile on their lips and an emotional tear in their eyes they gave us their blessing, consenting our alliance. It was a very peaceful moment. A special memory.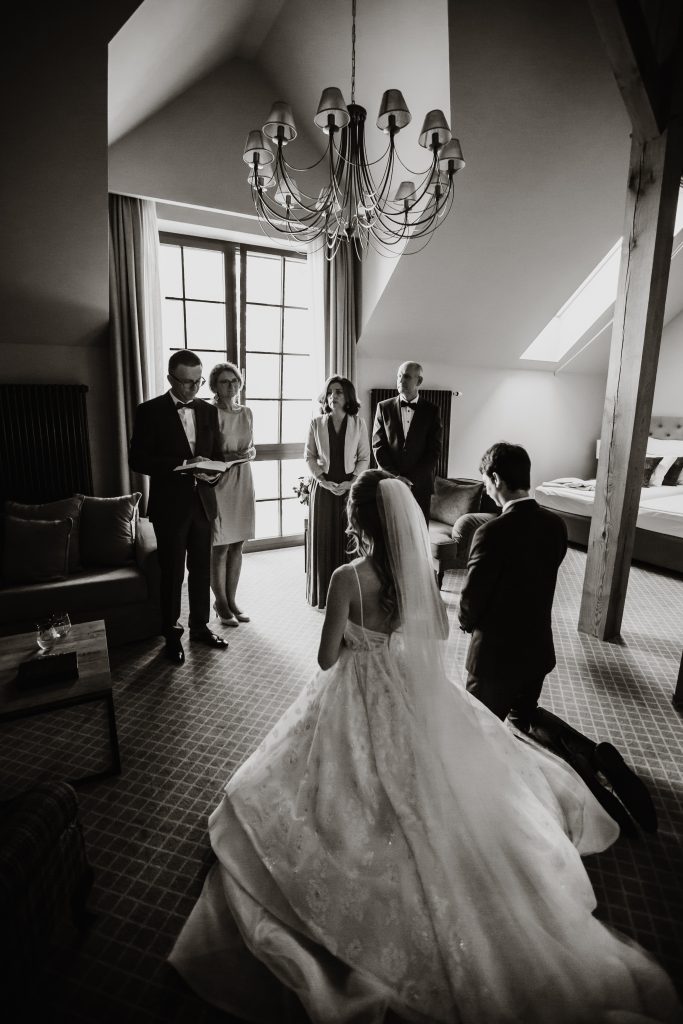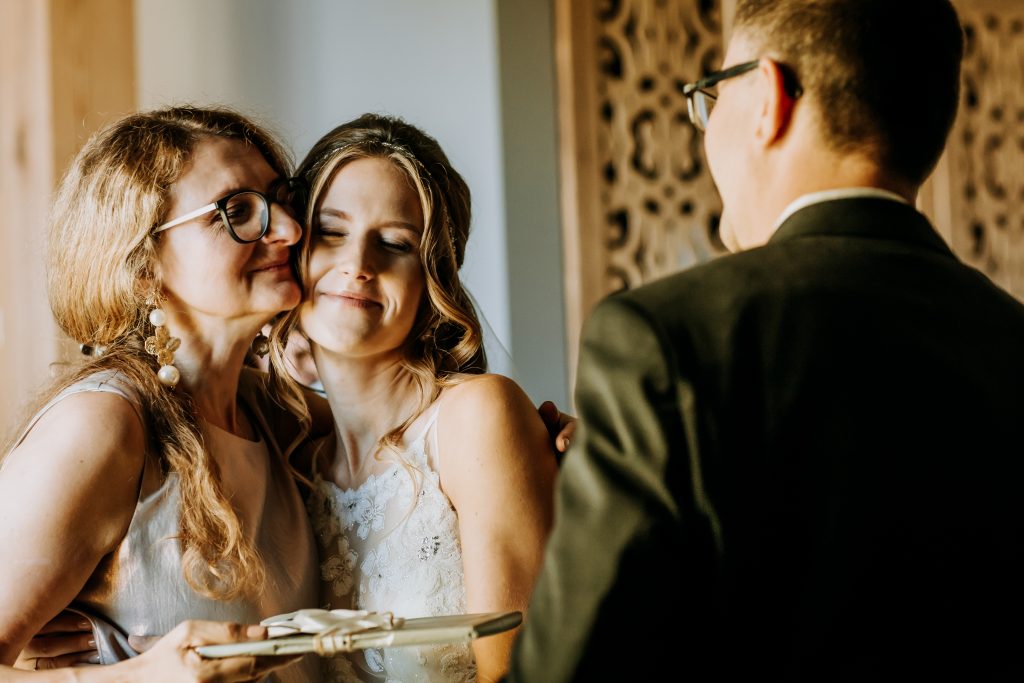 A little prayer
Here we are, in front of the church, where we would get married in less than half an hour. All our guests are waiting inside. The priest is getting ready to welcome us. Some of our family members attentively wait for the moment they can start singing the song they prepared for our entrance. But we're just not ready yet to walk in.
Quite spontaneously we decided to share a little prayer before heading down the aisle, into the biggest adventure of our lives. I mean, after inviting so many dear guests, how could we not invite the God we believe in? Just as we wanted our families and friends to laugh with us, celebrate in our honor and rock the dance floor, so we wanted God to accompany us during this day and every future day of our marriage. We wanted him to be part of it all. #Godisgood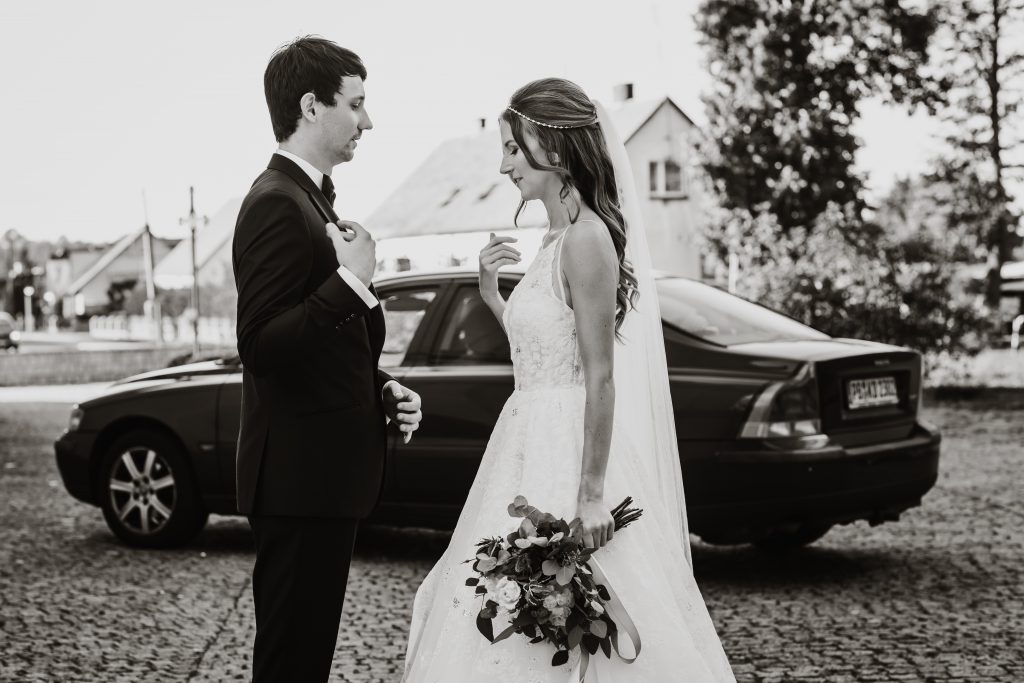 Our own wedding cake
Ok, this may sound weird, but we had a different cake than most of our wedding guests. The thing is, I'm not really a fan of super sweet things. #weirdo But I know people usually are. However, cakes typically are a sweet matter. #youdontsay As I wanted to enjoy that shared piece of wedding cake to the fullest, we thought of a solution.
The top part of the cake – the one that we cut our piece of – , was slightly different than the rest of the cake. I simply had it made less sweet. As there are no naturally sweet raspberries and huckleberries at this time of the year in our region, confectioners usually use sweetened fruits. Well, I wanted to deal with those Octoberly sour fresh fruit. #thebriderules And that's what I got in the very top part of the cake. #delicious #SatisfactionOnBothSides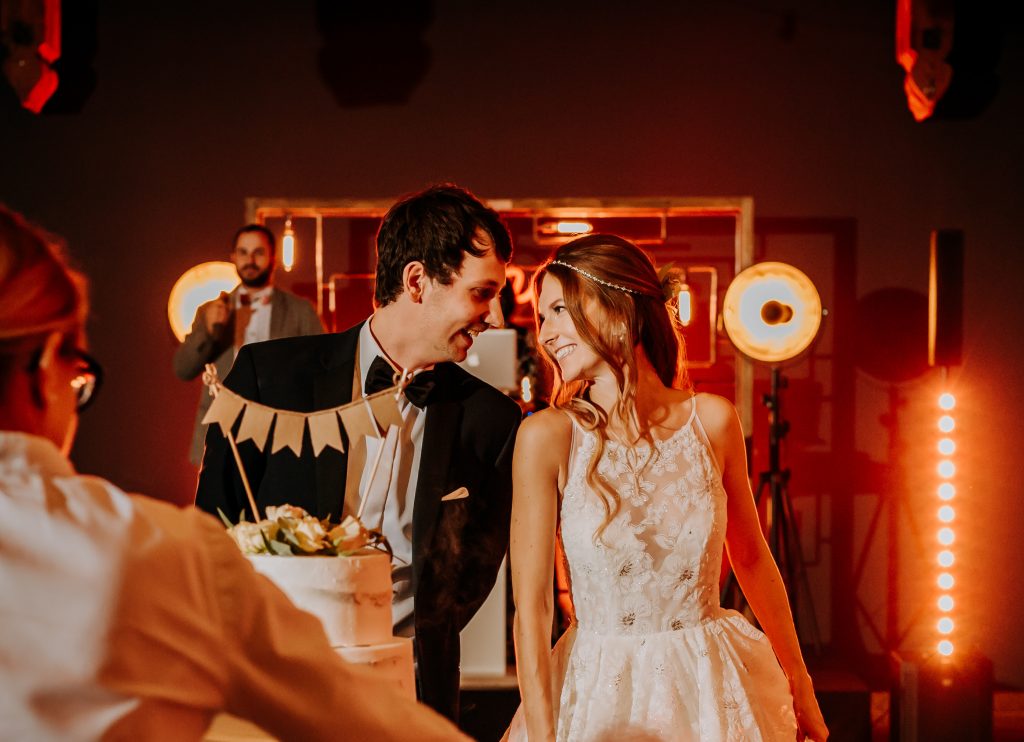 Voilà, that was a sneak peak behind the scenes of our wedding. Those were some of the things that happened that not even our guests knew about. These private and quiet moments definitely added to the charm and truthfulness of our big day. I truly believe that marriage is not about the wedding party and the outfits and the big crowd and the best dances. It's about the promise two people make to each other and the bond they create. We simply wanted to keep that in mind – especially when there is so much else going on a wedding day. #crazyparty
Dear grooms and brides-to-be, maybe that's something worth a second thought? 🙂
Love, K. #sparkle&shine
Photo Credit: Thank you, again, to Perfect View Photo&MUA for those amazing pictures. You captured those instants that are dear to our hearts. A gorgeous memory!